Skip to Content
Skincare Products
Jenny works with, M.A.D. Maximum Active Dermaceuticals & Viktoria de'Ann Peptides.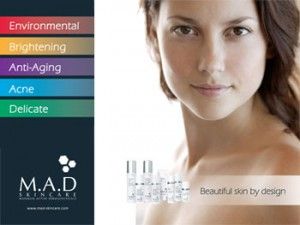 M.A.D Skincare
Maximum Active Dermaceuticals was created to deliver the most advanced skincare treatment, blending the best Science and Nature has to offer. M.A.D has 5 skin care lines (Delicate, Environmental, Anti-Aging, Acne, and Brightening) that can be used together in concert to address multiple skin issues. M.A.D products are Paraben and Sulfate free and do not contain Chemical Colorants.
How Do Viktoria De'Ann Peptides Work?
Viktoria De'Ann Cosmeceuticals formulates pharmaceutical grade bioactive peptides to provide new anti-aging treatments for true results. Viktoria De'Ann provides superior, cumulative results because their peptides meet or exceed biological thresholds and incorporate only active ingredients, eliminating the unnecessary.
Peptides are the messengers that naturally communicate, organize and initiate desired results to stimulate the body's capacity for self-maintenance and repair. Each Peptide in the Viktoria De'Ann series has a specific job such as stimulating collagen regeneration, repair elasticity, and hydration.
Lift
Decreases the distance between the skin cells causing a lifting and tightening affect. Great for saggy skin. Use with Elastin for optimum results!
Tone
Alternative to Botox, Tone modulates the muscle contraction to suppress the formation of lines and wrinkles (crows feet, bunny lines, 11's). Works synergistically with Pepti-Lift for optimal results.
Procol
Scientifically formulated to promote collagen synthesis. Restructures collagen that has been formed incorrectly (scar tissue). Use post procedure ie: Microderm, needling, dermaplane. Also used for those needing to boost collagen production.
Repair
Breaks down scar tissue (collagen) and repairs damaged skin cells. Use for Post procedure- Microderm, needling, dermaplane. Used to break down scar tissue as well as for inflamed skin ie: acne, rosacea, and sensitized skin.
Correct HP
Blocks the melanocyte stimulating hormone and chelates out pigment. Used for melasma, sun damage, PIH.
Acne
Stops the P. acnes bacteria from communicating with each other. When they can't talk to each other, they can't proliferate and your body can naturally control/eliminate them. Used for all acne – grades 1-4.
Hyaluronic
Tells your skin to make more hyaluronic acid. Restores hydration and suppleness.
Elastin
Tells your skin to make more elastin. Used for clients losing the elasticity in the skin.
Pad
Assist in re-building the dermal cushion areas where there is a loss of volume ie: under eyes, upper lip, nasal labial area. Helps to restore skin's thickness and suppleness.
Rejuvenator
Increases cell turnover to where it should be naturally. Increase cell respiration and ATP. Heals the skin, bringing it back into homeostasis. For all skin conditions including Rosacea, psoriasis, acne, and dry.
Eye Serum
Great for fine lines, wrinkles, puffiness and dark circles. Helps to brighten and firm the delicate eye area.